For the customers of PAKRI Science and Industrial Park an industrial symbiosis means both an opportunity to generate additional revenues as well as costs saving.
 

On September 17th the first Circular economy conference took place. Experts and companies' representatives participating in the round table discussion moderated by PAKRI, shared their practical experience to find jointly the ways how industrial symbiosis might become significantly beneficial for entrepreneurs.

   

The conference titled "Circular economy – costs into revenues" – the first time organized by the Ministry of Environment on September 17th, was aimed mainly at top management of industrial enterprises (mining and processing industry) to present them the principles, goals and supporting activities of circular economy. As well as to show businessmen why they should move in the direction of practicing circular economy business models. At the circular economy conference there was an opportunity to:   
hear about the most efficient practical industrial solutions in Estonia and Europe;
learn different funding platforms and get personally advised by respective experts;
enrich your knowledge and courage in applying the principles and tools of circular economy;
discuss the role of circular economy in innovations and competitive strength;
facilitate circular economy networking.

   
Among the participants of the conference were entrepreneurs, experts, funders. Round tables offered an opportunity for discussions and exchange of ideas on the bottlenecks of various issues.
What is waste for one is a revenue for another
PAKRI Sales and Communications Manager Klaire Kuusk gave examples at the round table, how PAKRI managed to find revenue sources out of the costs, emerging from the industrial park and business activities of its customers. "We'd like to offer a synergy that generates revenues – Industrial City (cost effective and green operating environment), Science Park (development of new technologies, business services and mentorship) as well as Customer business (business cooperation)", mentioned Kuusk.
Cost effective operating environment facilitates application of smart technologies in the buildings.
For instance, smart heating thermostats enabling to save around 30% of heating costs. Shared rental of equipment by several companies enables a company to reduce costs and risks: your loan liabilities related to the purchasing of equipment become operational costs of the rental service.
PAKRI is developing an autonomous power network and green energy is already today offered to the customers by means of a cogeneration plant, air heating panels, solar panels and other renewable energy technologies. PAKRI is also a testing environment for many new green technologies where our customers can improve their products by testing prototypes in an active production environment.
For testers it is also a unique opportunity to try in a real environment if and how a new product might be profitable in their production process and that is without significant investments. "The most important in our work is to find a synergy between the customers' business activities, in order to discover new revenue sources based on the results of cooperation", said Kuusk. "For example, waste heat from   computers has found an application as a heating source in a customer's premises – it is and additional cost for computers and cheap heating for a production customer. What is waste for one can be a revenue for another", added Kuusk.
At the industrial symbiosis round table three key words could be heard from the participants: cooperation, data exchange and growth of awareness.  It is important to have an open communication – between the companies as well as, for instance, between companies and local authorities. It makes no sense to challenge one another, we should understand that most of us have the same goals.  Awareness is equally important – the biggest potential here are children and young people. Currently cooperation between educational institutions and enterprises is poor – there is no wish to let students to analyze companies, although it should change.
The industrial symbiosis round table concluded jointly that:
Companies today still do not have enough information about the amount of wastes and who might use them as raw materials. It was concluded that there is a need to simplify partner searching process and create a common infosystem or environment enabling fast contacts for different parties.
There is a need to revise the waste and recycling management legislation and simplify it for companies.
Educational part is extremely important. Cooperation of educational institutions and enterprises should be made simpler.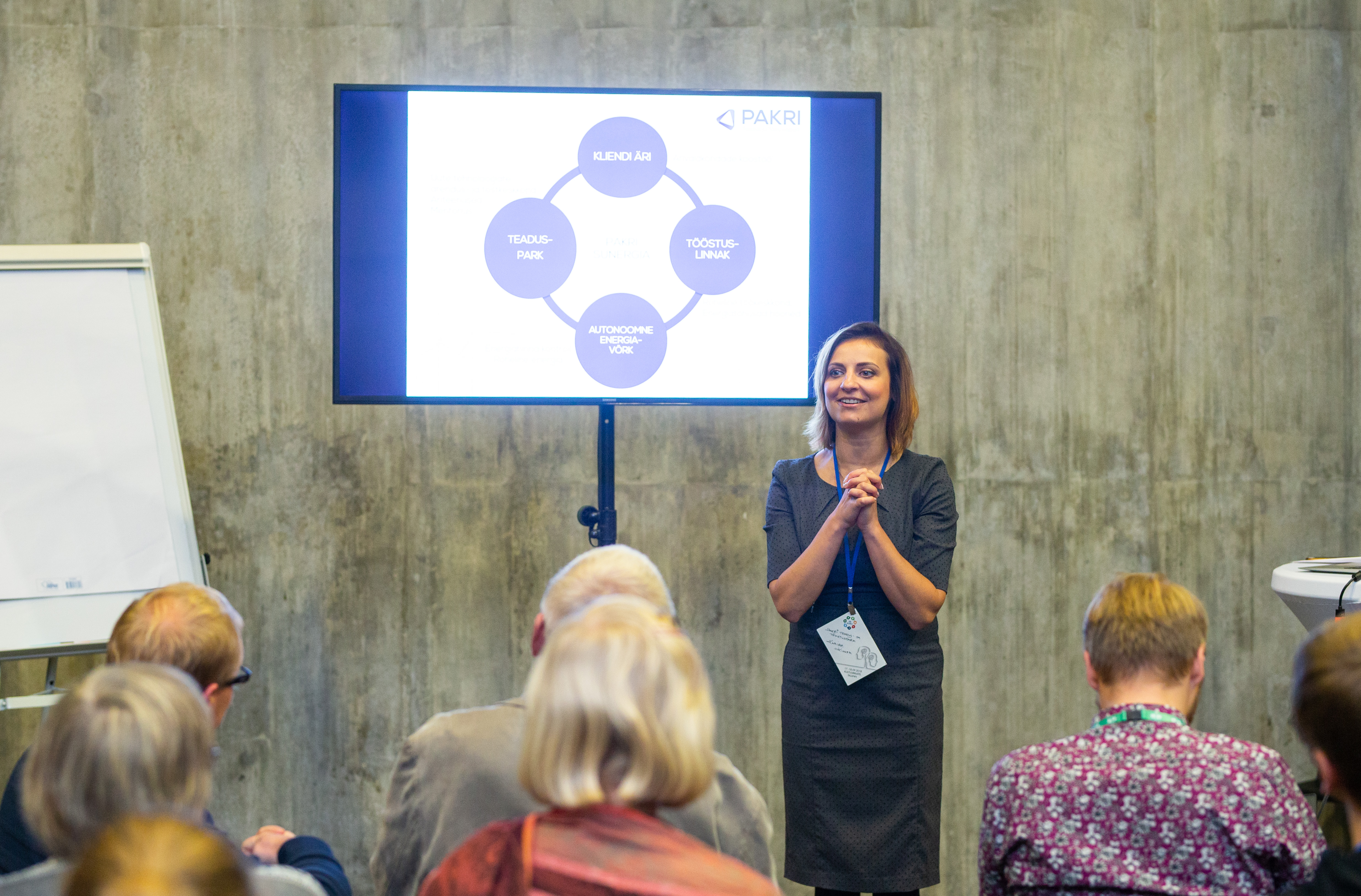 Circular economy conference, Industrial symbiosis round table, September 17th, 2018.
Photo: Klaire Kuusk, Sales and Communications Manager, Pakri Science and Industrial Park and experts and representatives of industrial companies participating in the round table. 
Photo: Raul Mee