PAKRI Science and Industrial Park's competitive advantage is its autonomous smart energy grid, with a current total volume of 75MW energy production capacity.
Innovative solutions, including energy storage, will allow the production and use of renewable energy inside PAKRI, translating to lower energy costs for PAKRI clients.
PAKRI's renewable energy makes our clients' products and services more environmentally friendly and helps support their  branding as green. Under development is PAKRI's "environmentally friendly" certificate and stamp.
Additionally, we promote the fact that all construction is in accordance with the highest possible energy efficiency standards (passive house standards, for example), and we use smart house technology for extra savings in energy consumption.
The PAKRI Smart Grid will offer the best opportunity in Northern Europe to test new technologies in small- or large scale, including new wind turbines, solar panels, and system interaction solutions, to name a few.
PAKRI Science and Industrial Park, together with the PAKRI Smart Grid and energy efficient housing, will provide strong synergies for every company, science organization, and partner in the field of renewable energy, energy in housing, grid integration, and energy storage.
PAKRI Smart Grid is developed in cooperation with Proton Ventures of the Netherlands. Please visit www.protonventures.com
A first look at PAKRI Smart Grid's storage device: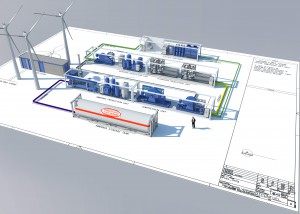 PAKRI has begun a partnership with the Estonian company Goliath Wind, which has developed a next-generation 3.3MW wind turbine.
A closer look at Goliath Capella 3.3 on the PAKRI Smart Grid: