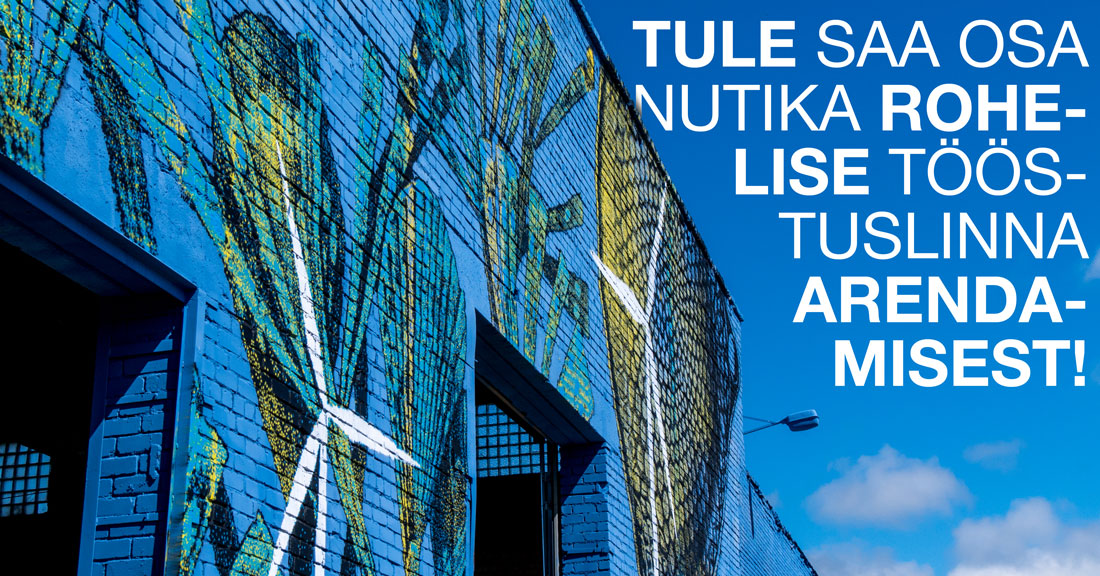 Invest in the smart industrial city!
PAKRI Science and Industrial Park has been focusing on environmentally friendly and responsible entrepreneurship since the very beginning 11 years ago. By 2020 PAKRI wants to become the leading green technology competence center and the largest smart industrial city based on private capital in Northern Europe
Invest in PAKRI Science and Industrial Park and get a part of the permanently growing unique synergy – industrial park, smart industrial city and renewables generation!
The last successful funding effect: in late 2018 a 0.9 MW solar park was commissioned for power capacity expansion to supply one of PAKRI building complexes with green energy. Currently we are looking for investments in a large-scale grid development, a wind and solar park in around 65 ha industrial area.
Should you be interested in investing or need more information, do not hesitate to contact us:
Enn Laansoo Jr.
PAKRI founder and CEO
Phone: +372 5216858
e-mail: enn.laansoojr@pakri.ee
Ongoing crowd funding campaigns
FUNDWISE crowd funding campaign
Up to 300,000.00 euros loan convertible into current assets and infrastructure.
Learn the terms here: https://fundwise.me/et/pitch/pakri.
Why invest?
Environment protection and responsible activities are the basis for human sustainability. It is our major value and prerequisite of our daily activities. PAKRI Science and Industrial Park has always wanted a bit more and therefore by today we became a unique European industrial park consisting of a green smart industrial city, renewables generation and competence center for green technologies. We are an example to follow by others and now we have contacts worldwide. We have been following PAKRI Science and Industrial City concept since 2007 and since then we have been actively involved in choosing, preparing a better location for the industrial park, detailed planning of one of the largest industrial cities in Northern Europe, maintenance of the building complex, where currently 22 industrial companies are present, and we also built up our own generation of renewable power. For the operations of the industrial park we have chosen the following cooperation partners: Tallinn Science Park Technopol, Skype, Crystalsol, IoT Technologies and many others whose experience and know-how offer an added value to our tenants. We are ready for the next significant enlargement to ensure us the title of the leading industrial city in Northern Europe.
PAKRI team has a very strong energy, property and research development as well as financial background. Relying on our international network we are able to assist our customers in development of new products and services, in export planning and entering new markets. Get acquainted with our team here: https://pakri.ee/et/kontakt/.
Find out more about earlier PAKRI investments:
11.2018 597,000.00 euros, maturity 11.2024; investment in the construction of a 0.95 MW solar park; construction completed in time and by now the solar park has received the confirmation of compliance with the renewable energy support scheme; see https://pakri.ee/et/pakri-esimese-paikesepargi-varsked-ehituspildid/.
09.2018 89,600.00 euros, maturity 06.2020; investment in preliminary construction works of the solar park and preparation of premises for the customers of Kivi 12.
06.2018 297,000.00 euros, maturity 06.2024; refinancing and renovation of building complex  No. 2 (Kivi 2).
02.2018 135,000.00 euros for purchasing and construction of building complex No.3 (Tallinna mnt 31); maturity 12.2019; see https://pakri.ee/et/new-record-in-crowdfunding-22min-for-135-000eur/ and https://pakri.ee/new-crowdfunding-campaign-invest-into-pakri-smart-industrial-city/ .To date the first renovation of the building is completed, first tenants are in, construction of 0.95MW solar park completed, power capacity increased up to 1000 amperes and the mortgage value increased up to 400,000.00 euros.
09.2015 490,000.00 euros, repaid 04.2016; see https://pakri.ee/et/refinantseeriti-maailma-ja-eesti-esimene-targa-linna-uhisrahastuse-kampaania/.