Smart-Grid
PAKRI Science and Industrial Park's competitive advantage is autonomous smart energy grid, with total volume of 25MW energy production capacity.
Innovative solution, including energy storing, will give the possibility to produce and use renewable energy inside of PAKRI, what makes the renewable energy cost price lower for PAKRI clients. Lower renewable energy cost means savings in every day operation costs.
Using our renewable energy, it makes your product or service more environment friendly, what helps to support your companies branding. We have under development "environment friendly" certificate and stamp.
Additionally we promote that all building will be build according to highest possible energy efficiency (for example passive house standard) and use smart house technology, what means extra saving in energy consumption.
PAKRI Smart-Grid will give the best opportunity in Northern Europe to test new technology in small or large scale, including new wind turbines, solar panels, system interaction solutions etc.
PAKRI Science and Industrial Park together with PAKRI Smart-Grid and energy efficient housing, will give the strong synergy for every company, science organization and partner in the field on renewable energy, energy in housing, grid integration and energy storing.
PAKRI Smart-Grid is developed together with Proton Ventures, from Netherlands, please see www.protonventures.com
First look to PAKRI Smart Energy Grid storing device: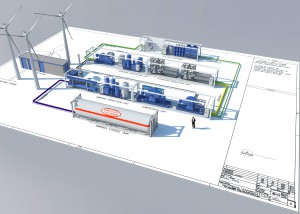 PAKRI has chosen and started partnership with Estonian company Goliath Wind, who has developed next-generation 3,3MW wind-turbine.
Closer look to Goliath Capella 3,3 in PAKRI Smart-Grid: